Exhibitor Resources
Rules and Regulations
NAB Show has adapted the following guidelines from the International Association of Exhibitions and Events (IAEE) Guidelines for Display Rules and Regulations. Show Management has the authority to interpret or amend the rules at any time, all decisions are final, and all requested changes are at the Exhibitor's expense. Your display products must fit within the confines of your booth and must be arranged so they do not obstruct neighboring exhibits. Exhibitors must comply with all Las Vegas Convention Center (LVCC) rules and regulations.
2022 Work Rules and Labor Union Regulations
LVCC Building User's Manual
New Rules
Multi – Level Booths
New this year, Clark County and the Las Vegas Convention Center require any upper-deck area that will be occupied must have an approved plan with an engineering stamp registered in the state of Nevada. Please review the Las Vegas Convention Center Building User's Manual for fire and safety rules for multi and covered booths.

Exhibitor Liability Insurance Requirements
Per the booth contract, Exhibitors are required to carry comprehensive general liability insurance and it must be procured at the exhibitor's sole expense.
All exhibitors must submit a copy of your insurance to Rainprotection Insurance before the first day of move-in.
Note that exhibitor liability insurance is separate from Exhibitor Appointed Contractor (EAC) insurance which does need to be submitted pre-show. Coverage requirements are outlined below.
The insurance must be maintained through the term of the contract and must cover against claims for bodily injury, death and property damage occurring in or upon or resulting from the premises leased by NAB Show. Such insurance shall include contractual liability and product liability coverage, with combined single limits of liability.
Such insurance shall name the National Association of Broadcasters (NAB), Las Vegas Convention Center/LVCVA and Freeman as additionally insured.
Workers Compensation and Occupational Disease Insurance shall be in full compliance with all federal and state laws, covering all the Exhibitor's employees engaged in the performance of any work for and/or by the Exhibitor.
All property of the Exhibitor is understood to remain under its custody and control in transit to and from the confines of the Exhibit Hall and during the Show.
You most likely can add the above to an existing insurance policy. Please contact your insurance company directly.
NAB Show, Las Vegas Convention Center, Freeman, all other contracted vendors of the Show and their agents or employees shall not be responsible for any loss, theft, or damage to the property of the Exhibitor or its employees or representatives. Further, the aforementioned parties will not be liable for damage or injury to persons or property during the term of this agreement from any cause whatsoever by reason of the use or occupancy of the exhibit space by the Exhibitor, and the Exhibitor shall indemnify and hold harmless the aforementioned parties from all liability which might ensure from any cause whatsoever. If the Exhibitor's materials fail to arrive, the Exhibitor is nevertheless responsible for all amounts due. The Exhibitor understands that none of the organizations or sponsors maintain insurance covering the Exhibitor's property, and it is the sole responsibility of the Exhibitor to obtain such insurance.
Additional insurance and/or fire marshal approval may be necessary for certain booth sizes or equipment.
General
Included with Booth Space Purchase
Unless you've purchased a Turnkey Furniture Package, booth space is "raw space" and is unfurnished. Unlimited material handling is included with all booth space. You can rent furnishings through the Freeman Service Kit.
Types of Booths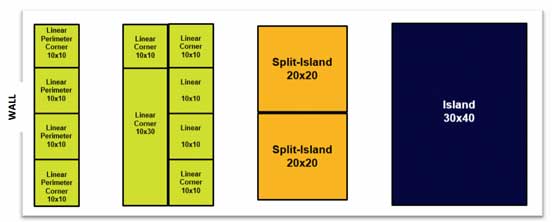 Show and Building Rules
Americans with Disabilities Act (ADA)
Booth Personnel/Models/Hosts/Hostesses/Mascots
Canopies, Ceilings and Multi-Level Booths
Carpet/Professional Floor Covering
Direct Selling – Show and Sell
Drones/Remotely Piloted Aircraft Systems (RPAS)/Unmanned Aerial Vehicles (UAVs)
Giveaways, Contests and Raffles
Human Safety and Raised Floors
Photography and Videotaping
Structural Integrity and Exhibitor Liability
Subletting of Exhibit Space/Directory Listings/Goods/Publications
Theater Demonstrations, Live Entertainment and Product Demos
Truss, Video Walls and Lighting
U.S. and Nevada Laws and Regulations
Exhibitors agree to comply with and conform to all federal and state laws and regulations including but not limited to commerce, tax and export laws/regulations. A personal or concealed weapon of any type is not permitted. Nevada Revised Statute 202.3673 prohibits concealed weapons of any type on facility property(s).