Here's what to know before you go…
TRAVELING TO NEW YORK & JAVITS
From Visa information to travel information, we've got you covered. We'll continue to monitor the international travel landscape, so check back often for updates.
Book Your Hotel
Housing options for NAB Show New York are available through the registration process and managed exclusively by Maritz to offer you these benefits:
Get the lowest hotel rates
Earn reward points from your preferred hotel brand.
Gain better networking opportunities by staying where event participants are.
Receive reservation protection and assistance for your stay.
Simply access your NAB Show New York registration to view options and make reservations.
Getting to Javits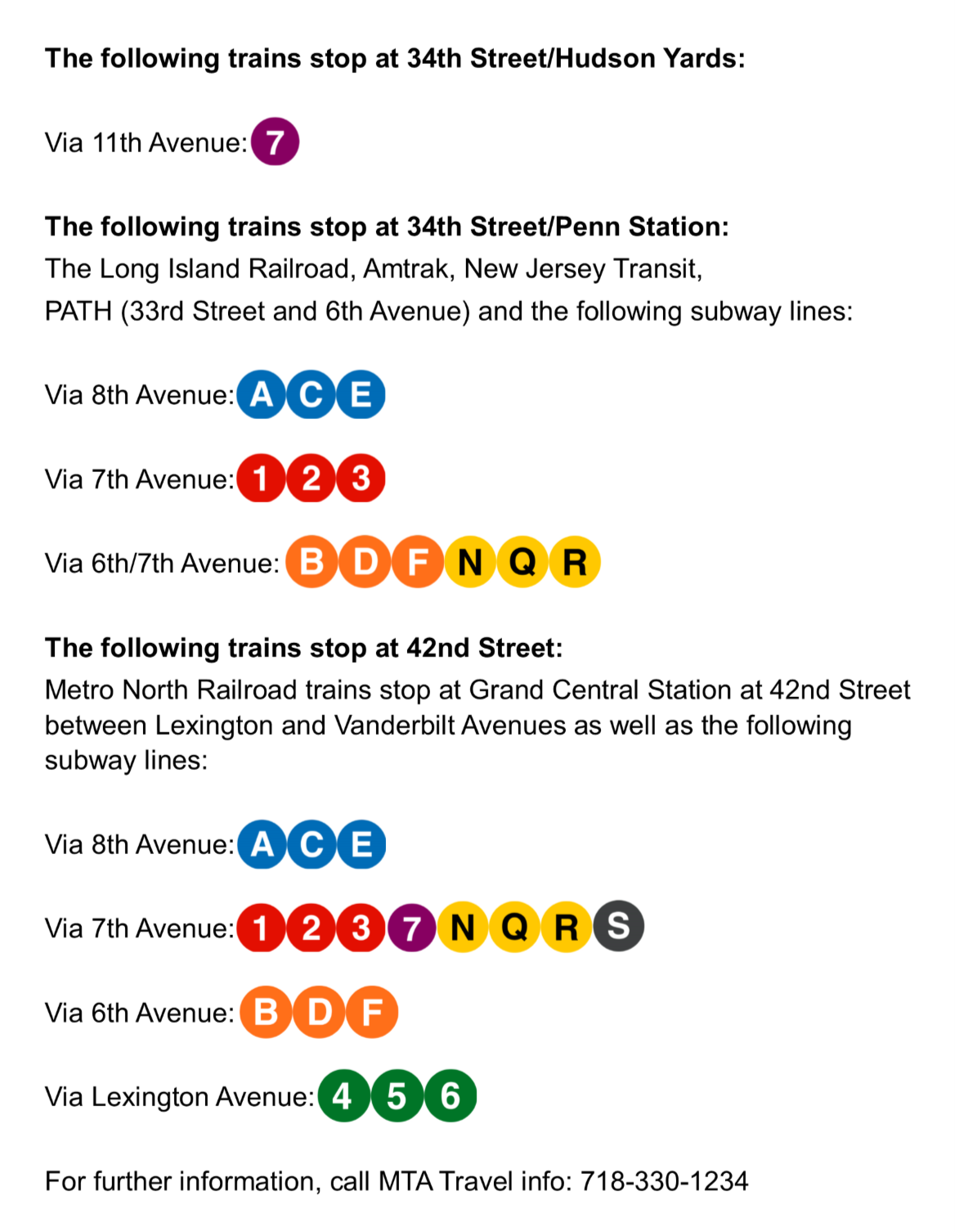 Bus routes serving the Javits Center include the M34, M42, M50, M12, and M11. Use the MTA website to get customized directions, but note that the span of service and frequency vary by route. Not all buses run overnight, but however, the M42 runs 24/7 and there are two additional overnight routes that serve the Javits Center – the M99 and the Bx99.
The New York metropolitan area is serviced by three major airports: JFK International, Newark International and LaGuardia Airport. Travel time by taxi from the airports to midtown Manhattan varies by airport. Travel time from LaGuardia to midtown can take anywhere from 25-40 minutes. JFK can take anywhere from 45 minutes to over an hour and Newark 40 to 60 minutes. Javits' official transportation partner, Supershuttle/Golden Touch Transportation Services, can arrange shuttle services to and from the airports as well as transportation by private or shared limousine. Located at the taxi-drop off on the Concourse level,
Supershuttle/Golden Touch can also be reached by phone at 800.258.3826 or on-line: Golden Touch Transportation or Supershuttle
For complete transportation information including how to get to Manhattan by public transportation from all three airports, including the JFK AirTrain, log onto the NY/NJ Port Authority at www.panynj.gov.
From the North (Westchester, Connecticut, Massachusetts)
95 South (via the Cross-Bronx Expressway) to the George Washington Bridge. At approach to bridge, bear right to lower level. Exit at the last exit in New York–Parkway South–9A. Follow Parkway South (Henry Hudson Parkway/West Side Highway) to 42nd Street. Turn left. Go one block to 11th Avenue and turn right.
Saw Mill River Parkway/Henry Hudson Parkway/Route 9A: Follow 9A South to 42nd Street. Turn Left. Go one block to 11th Avenue and turn right.
New York State Thruway/Major Deegan Expressway/Route 87: Major Deegan Expressway to George Washington Bridge exit. Stay in right lane towards lower level. Exit at the last exit in New York–Parkway South–9A. Follow Parkway South (Henry Hudson Parkway/West Side Highway) to 42nd Street. Turn left. Go one block to 11th Avenue and turn right.
From the South (New Jersey, Delaware, Pennsylvania, etc.)
95 North to the New Jersey Turnpike. Exit at the Lincoln Tunnel. When exiting the tunnel, bear left. Follow signs for uptown or northbound to 42nd Street. Turn left onto 42nd Street until you reach 11th Avenue and turn left.
George Washington Bridge to Parkway South– 9A. At 42nd Street, turn left. Go one block to 11th Avenue and turn right.
From Queens and Long Island
Queens-Midtown Tunnel: Take Southbound or Downtown exit to 34th Street and turn right. Go west and turn right on 11th Avenue.
Queensboro/59th Street Bridge: Take 60/61st Street Exit. Go to 5th Avenue alongside Central Park to 59th Street. Turn right onto 59th Street to 7th Avenue and turn left. Go two blocks to 57th Street and turn right. Follow 57th Street to 11th Avenue and turn left. The Center is between 34th and 38th streets.
From Staten Island
Verrazano-Narrows Bridge eastbound to the Gowanus Expressway, to the Brooklyn Battery Tunnel. Exit westbound to the West Side Highway/12th Avenue. At 34th Street, turn right. Go one block to 11th Avenue and take a left.
Citi Bike is New York's popular new bike sharing system, which features thousands of bikes at hundreds of stations around the city. The bikes can be rented from and returned to any station in the system, and are available 24/7, 365 days a year. You may choose to purchase a 24-Hour Access Pass for $9.95 or a 7-Day Access Pass for $25. Access Passes may only be purchased at Citi Bike stations, using the touchscreen kiosk. A Citi Bike station is conveniently located on 34th Street at 11th Avenue.
Metered Rate of Fare
$2.50 upon entry
$0.50 per 1/5 mile or per 60 seconds in slow traffic or when vehicle stopped
$0.50 night surcharge after 8:00 p.m. and prior to 6:00 a.m.
$1.00 Peak Hour Surcharge in effect 4:00 p.m. to 8:00 p.m., Monday-Friday
$0.50 MTA NY State Tax surcharge per ride
$0.30 Improvement Surcharge
Different variables such as heavy traffic and tolls should be taken into account in gauging the final cost of your trip.
A cab ride between Grand Central, Penn Station or Port Authority to the Javits Center can cost anywhere from $8-$15 depending on the traffic.
Travel in and out of the U.S.
There are many steps to consider when traveling internationally:
Check to see if you need a visa to travel to the U.S. or if you are from a country in the Visa Waiver Program (VWP).
It is recommended to not purchase your airline ticket until your visa application has been approved.
It is recommended to allow at least three hours for flight transfers in the U.S. to re-check your luggage and/or proceed to the U.S Customs and Border Protection Services for immigration processing.
When traveling out of the U.S on an international flight, it is recommended to be at the airport at least 3 hours before departure. Your bag must be checked 1 hour before scheduled departure and you should be at your gate and ready to board 45 minutes before departure.
Visa Application and Interview Tips
To enter the Unites States many international visitors will require a visa and this can be a lengthy process. Here are some suggested steps to follow when applying for a visa that may help improve the chance of your application being approved.
Find the official NAB Show New York Letter of Invitation that was delivered to your email inbox after you registered for the show.
Fill out and submit the visa application. Include a color printout of your NAB Show New York Letter of Invitation and any printed or event materials you have received from NAB Show New York to prove the event is legitimate.
Make an appointment at the U.S. Embassy or Consulate within your country as early as possible.